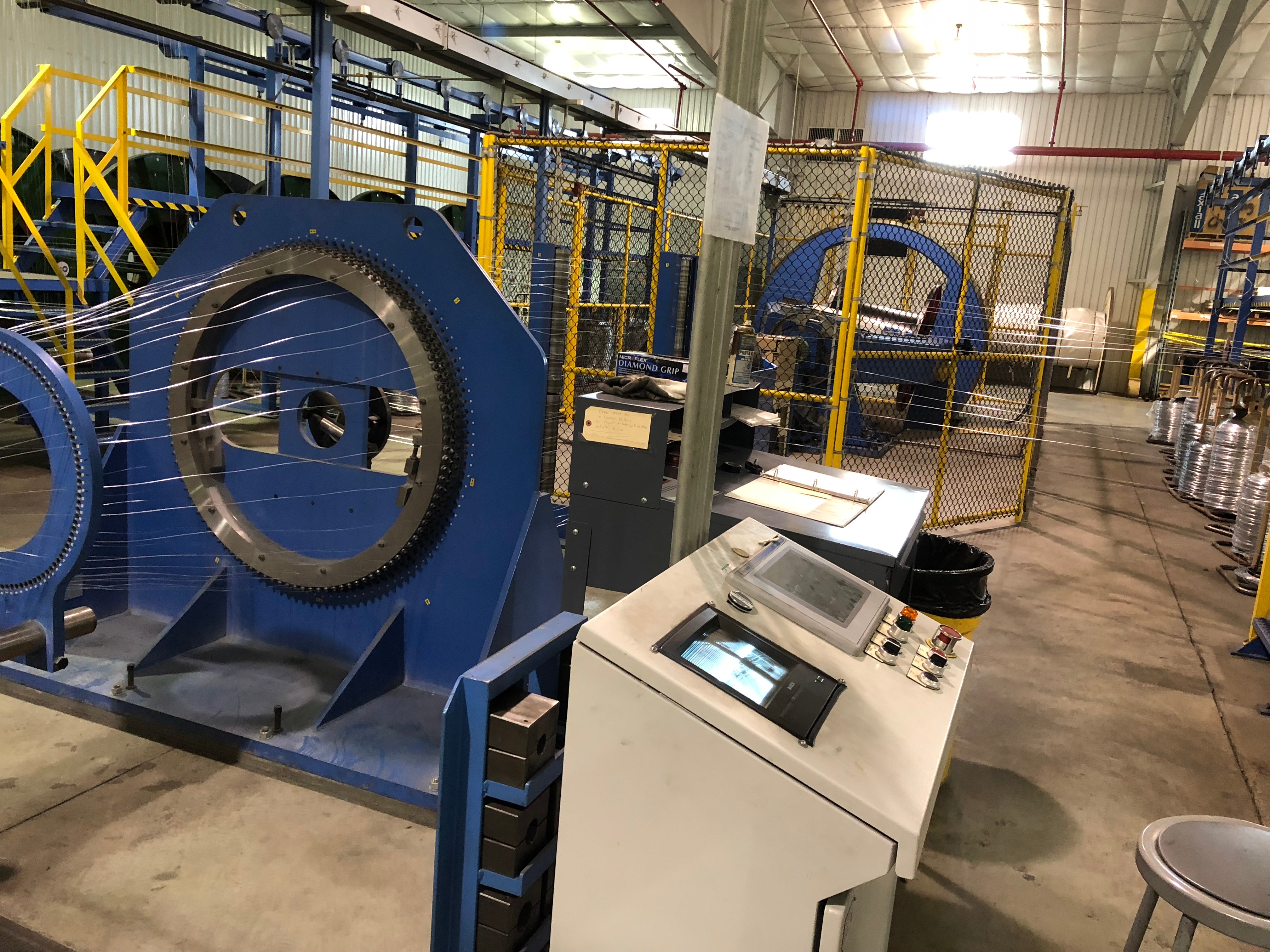 A Roteq 110 wire Armoring Line (CBR1315), currently installed at a Wire and Cable company in Texas, is up for sale. The line was manufactured in 2006/2007 and is a Right to Left configuration. It will accommodate a maximum cable diameter of 3.5" (89 mm) and has a maximum line speed of 100 FPM (30.5 MPM).
The line consists of:
96" (2.4 m) fork style, trunnion support Rotating Payoff, shaftless with pneumatic disc tensioning (adjustable from main panel), 30HP rotational drive motor.
Stem Payoff frame: 110 positions
Rotating Pre-Twister, line shafted from Rotating Payoff
Pre-Form and Tension Stands: 110 positions
60" (1.5 m) Rotating Belt Caterpuller Capstan with 60" track length and 30HP Belt Drive and line shafted to Rotating Takeup.
96" (2.4 m) fork style, trunnion support Rotating Takeup, shaftless with reel drive of 10HP and rotational drive of 50HP
Radio Frequency video monitoring
Powered Bobbin loading and unloading arrangement
The line will handle bobbins with 96" (2.4 m) Flange x 68" (1.7 m) overall width and has a lift capacity of 20,000 lbs (9 MTons).
The drive and control system includes Parker 690+ AC Vector Drives and Controls, Allen Bradley PLC and operator interface, and separate pedestal type operator station.
Photos can be seen on our website at http://inventory.wireandplastic.com/All/Rotating%20Equipment/Drum%20Twisters/CBR1315.