Wire & Plastic Machinery received an order for a fully reconditioned Watson Planetary cabling line to be used for the manufacturing of superconductor cables. These cables will be used for the International Thermonuclear Experimental Reactor (ITER) in Cadarache, France.
ITER is a large-scale scientific experiment intended to prove the viability of fusion as an energy source, and to collect the data necessary for the design and subsequent operation of the first electricity-producing fusion power plant.

The ITER Agreement includes China, the European Union, India, Japan, Korea, Russia and the United States. The Members of the ITER Organization will bear the cost of the project through its 10-year construction phase and its 20-year operational phase before decommissioning.
For more information on the ITER Project, visit http://www.iter.org/proj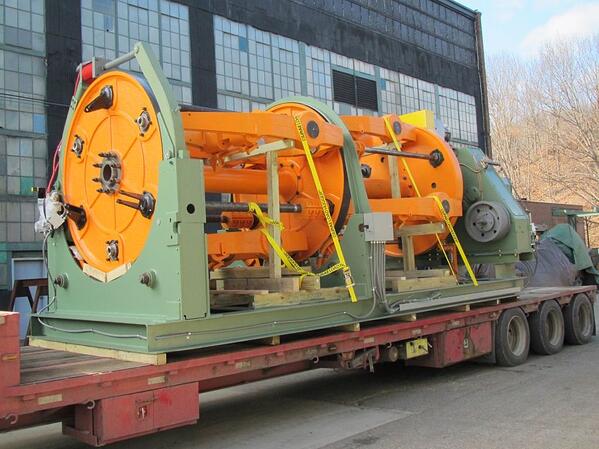 This project involved the mechanical reconditioning, operational testing, and new electrics for the following components:
40" Watson Heavy Duty 6+1 Planetary Cabler
40" Reel Diameter Max.
24" Max OAW Reel
Unit supported on (2) sets cast Trunion rolls
Heavy cast cradles with Shaft less Design
Unit is constructed of (2) 3-Wire Bays with Rear Bearing and Gearbox Housing
60" Dual Capstan
60" Diameter Gear Driven dual capstan
6 x 7 Groooves, 2 ¼" wide
Edmands Dual Eccentric Taper
18" x 3 " ID Dual Pads
Independently Driven by 7 1/2HP AC Vector Motor
84" Bartell Shaftless Takeup
Model SLTU-84-140RH
Dual hydraulic lift
Hydraulic in/out both arms
4:1 Driveall Transmission
Mechanically rebuilt, all hydraulic cylinders rebuilt
10HP AC inverter duty Marathon motor
New drive panel with Allen Bradley Heavy Duty AC invertor Drives
New traverse motor
Scope of Mechanical Refurbishment:
Complete disassembly of entire machine for cleaning and inspection
Replace all Pintle Bearings
Replace all Cradle Bearings on each Bay Section
Replace all Bearings in Gearbox Housing
Replace all Trunion Bearings
Machine Trunion Rolls for surface finish and concentricity
Machine New Pintle caps as required to meet Customer Specification
Install new Ceramic Wire Guides as required
Repair or replace all drag brake parts as necessary
Completely reassemble machine
Fabricate rosette mount on front of cabler
Inspect Cradles for proper operation and tension range
Correct any imbalance in Cabler
Install 25:1 gear Reducer on input shaft of Cabler
Inspect all gears and replace if worn in gearbox and drive train
Fabricate motor mount frame to suit Main Drive Motor
Fabricate motor mount frame for Independent Capstan Motor
Install all new Power transmission parts, Belts, Chains, and Drive Guards
Rebuild dual tape head
Electronic indexing capability to facilitate Reel loading and unloading
Supply all belt guards – Customer to provide guarding (fence) around cabler
Scope of New Electrical Control:
Supply New 50 HP AC Reliance Vector Duty Motor for Main Cabler Drive
Supply New 15 HP AC Reliance Vector Duty Motor for Capstan
Supply New 7.5 HP AC Reliance Vector Duty Motor for Tape head
New NEMA-12 Floor standing enclosure to house all Drives and line control
Allen / Bradley MicroLogix PLC with all required Input-Output modules
Failsafe Emergency Stop Relay
All associated relays, Terminals, Power supply, Circuit Breakers, and Fusing
Safety interlocked Door Handle with Mains Circuit Breaker
Control Voltage: 24V DC
New Freestanding, Operator Console for all Line manipulation including:
All Pushbuttons
Contrex ML-Trim Digital Lay Control to regulate Capstan for precise Speed / Lay Length
Contrx ML-Trim Digital Lay Control to regulate Taping Heads for precise Speed/Lay Length
Digital Read-outs for Motor Currents
Digital display of Cabler Production RPM
Digital display of Production Line Speed
Predetermined Digital Length Counter
CABLER: 50 HP Parker / SSD 690+ Vector Drive with Encoder Feedback, and outboard mounted Dynamic Brake Resistor Bank.
CAPSTAN: 30 HP Parker / SSD 690+ Vector Drive with Encoder Feedback, and outboard mounted Dynamic Brake Resistor Bank.
TAPE HEAD: HP Parker / SSD 690+ Vector Drive with Encoder Feedback, and outboard mounted Dynamic Brake Resistor Bank.
All electrical equipment was supplied new and completely prewired and tested. All PLC, Drive, and Digital control programming were supplied to customer on disk. Complete Auto Cad Schematics were supplied in print and disk. The complete cabling line was fully tested and test run in our Bristol, CT facility.
BEFORE & AFTER PICTURES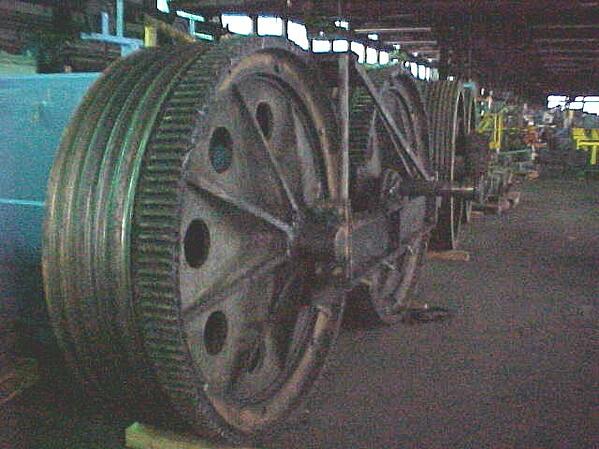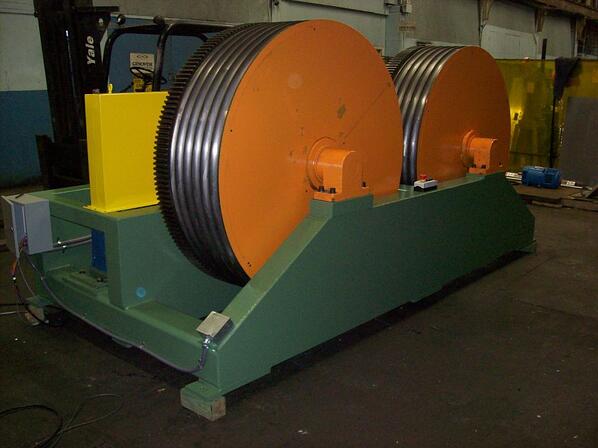 RECONDITIONED PICTURES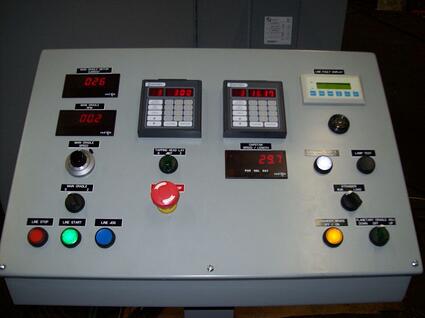 We have over 40 Planetary Cablers in stock that are available for immediate delivery or can be reconditioned to suit your needs. Click here to view our inventory of Planetary Cablers.